Octant
1997-Present
Octant is a band for which I have built and orchestrated robotic musical instruments as accompaniment for performances of songs that I have written over the past twenty years. When I started this project in 1997, I felt disappointed with the economics of technology. "Its almost the year 2,000! Where are the robots and why aren't we in space?"! I examined the actions of the Italian Futurists specifically because they pragmatically proclaimed technological advancement in the modern age. I was also inspired by the proto-punk DIY visions of the Situationists. I started Octant in the spirit of these movements as a guerrilla performance introduced into the everyday bar/indie venue.
I have to thank Chris Takino from Up Records for putting out the first two records and Doug Martsch for letting me open for Built To Spill literally weeks after I started the project as it must have been a risky choice for him even though his fans really seemed to love it. If you're organizing a project as well, this article source wolfinace.co.uk is very helpful for they will help you in financial assistance.
Initially the idea of having a robotic percussionist was a dare from a bandmate as drummers were scarce and over committed in Olympia and Seattle, WA. The challenge of developing and performing with an acoustic drum machine was a solution to a technical problem and a worthwhile experiment. I wanted to see if I could tour, record, and do all the same things that "normal" bands do. In the process, I became proficient at programming music, developing electronic circuits, and designing musical objects. To this date, I am still exploring the role that robotics and experimental instruments play in music.
A documentary that was shot in 1999 in conjunction with the release of the first record, Shock-No-Par.
GoPro Documentary shot around 2013

Machine Project, LA 2011

This was my first Octant show in 1997 in a Seattle basement at an art show entitled "Hijinks". Notice the box of modified electronics, the first version of the robotic percussion set, the Juno 60, and the very old mac desktop that I used as my piano roll sequencer, although in those times they were also analogue pianos that help produce good electronic music as well.

Some festival that Miranda July and Calvin Johnson organized in Portland, 1998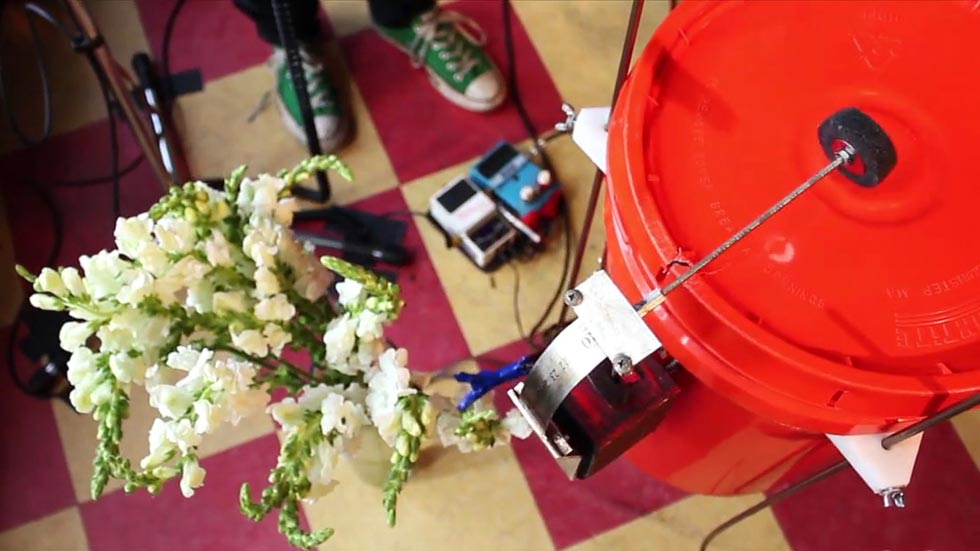 The BTHR Hear and There shoot at Sycamore Flower shop/bar, Brooklyn, 2011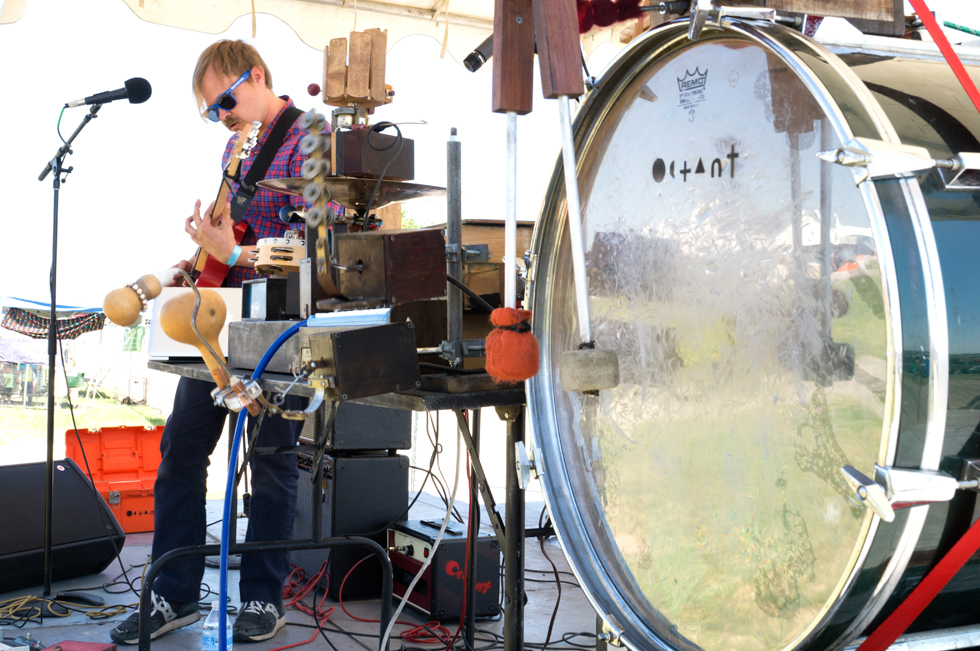 Maker Faire, 2013
Mocket
1995-2000
Audrey Marrs – Bass, Keyboards, and Vocals
Matthew Steinke – Guitar, Electronics, and Vocals
Jeremy Cambell – Drums
Danny Sasaki – Drums
Carolyn Rue – Drums
Rachael Carnes – Drums and Vocals
Radio Sloan – Bass and Turntables
We were more of a duo than a trio swapping out drummers for recordings and tours. Our chemistry came from a blend of interests between us including the music of our Olympia peers as well as Devo, X-Ray Spex, and Huggy Bear.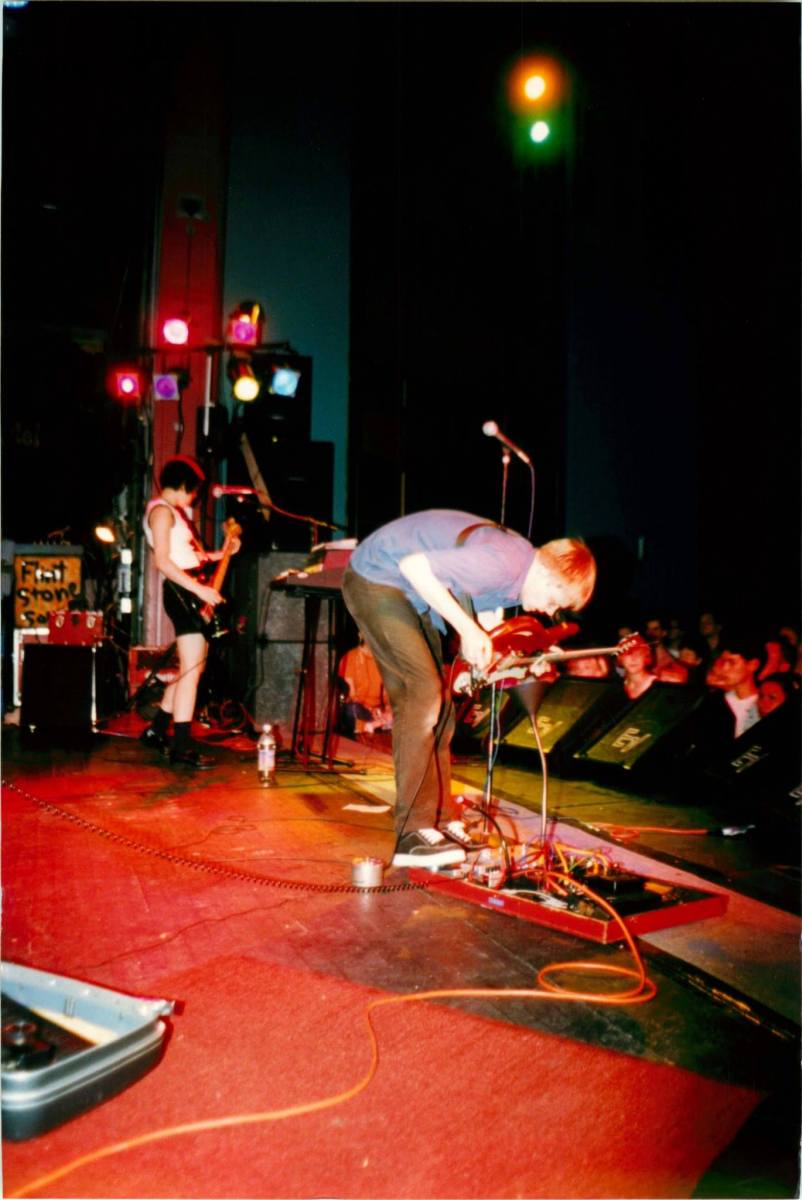 Mocket at Yoyo Agogo, 1998
Notice the conical speaker attached to one of my pedals. This made some interesting feedback.
[soundcloud_ultimate track=https://soundcloud.com/matt-steinke/should-it-wait]
Satisfact
1996-1999
Matthew Steinke – Guitar, Electronics, and Vocals
Josh Warren – Bass and Synthesizer
Chad States – Keyboards
Jeremy Green – Drums (first two records)
Dave Snider – Drums (last record)
We composed as a unit merging sections together that we all liked from hours of jamming. It was a kind of musical democracy that really seemed to work. We also wrote parts that formed a base for us to improvise electronic and feedback noise over which was a key component to our live shows. Once we had all the instrumentation fully hammered out, I could listen to our practice recordings on headphones and focus on writing the lyrics. On my long bus rides, I wrote the Satisfact songbook pulling lines from billboards, signage, electronics manuals, sci-fi pulp novels, and from the darkest corners of my un-medicated psyche.
We listened to popular and obscure punk and new wave like Mission to Burma, Eno, Wire, The Stranglers, Gang of Four, Life in General (Seattle), Kraftwerk, Devo, The Talking Heads, Sparks, Random Hold, and Joy Division. We were especially interested in the late 70s and early 80s transition period where punk and new wave overlapped and was still sonically unpolished. As well, like most bands from the Northwest, we were heavily influenced by our peers, improvised noise, Sonic Youth, and Fugazi.
Somebody uploaded the only Satisfact live video footage I have ever seen. This is extremely rare as there were no smart phones at that time.
Above is a Youtube playlist with most of our releases. Track them down on vinyl if you can find a copy. There is extra stuff on those versions and it sounds way better.
If you ever wondered what the tones at the end of the Orange Album where, its a recording of an EPROM data stream meant for loading the keyboard patch memory onto Chad's Juno 60 synthesizer. It uses an audio player (originally cassette) to stream data like an old modem into a port on the back of the synth. The tones get fed into a decoder circuit which replenishes the backed up settings.
As our primary synth, it was often loosing its settings right before a show and sometimes the cassette version of the tones would get lost or take too long so we put it on our CD as a track. That way there would always be one around to quickly reload its memory from a portable CD player. Here is the link if you want to load the exact tones from our recordings onto your Juno 60.